Is Smilify More Effective Than At-Home Clear Aligners?
The Real Secret Behind a Long-Lasting Smile
New tele-dentistry companies say they can fix your teeth in 6 months – and you never have to see an orthodontist! Sounds great, right?

Not quite.

There are very important reasons to have your teeth straightened by a real doctor. Smilify offers safe, carefully supervised Invisalign that really works. In order to successfully treat your condition in six months, your orthodontist will check your progress regularly with face-to-face consultations, ensuring your beautiful smile is truly built to last.

How else does Smilify Invisalign stack up against at-home clear aligner kits? When it comes to creating beautiful smiles, there is more than meets the tooth! (Sorry, we couldn't help ourselves.)
Treating Your Teeth Starts with What's Underneath
When an orthodontist treats your teeth, they start with diagnosis. This doesn't mean just looking at your teeth. They'll do a full consultation to assess what's beneath the teeth – the underlying conditions that cause the misalignment in your bite.
So what's below your teeth?
Root systems
Jaw alignment
Tooth Inclination
Cranial base
And more
All of these factors contribute to your dental condition; diagnosing them is key to safe and effective treatment.
Your teeth are like the tip of the iceberg: you have to look beneath to see what's really going on.
We saw Titanic. We know what happens when you can't see the whole iceberg.
How does your Smilify orthodontist see below the iceberg? How do they diagnose your condition and develop a treatment plan?
X-Rays. With X-Rays, we get the whole iceberg: above and below.
X-Rays allow your doctor to see the entire structure: your bite, your jaw, your roots, and your teeth. With this full picture, your doctor creates a treatment plan designed just for you. Proper treatment always begins with proper diagnosis.
So if You Never See the Doctor…How Can They See Your Teeth?
Tele-dentists fix your teeth remotely: you never go to the office. That means no X-Rays (after all, they can't exactly email you an X-Ray machine…) So how can they diagnose your underlying condition without X-Rays?

Well, they can't.
So, they don't.

Tele-dentistry companies rely on at-home bite molds to assess the problem. Or they send you to a "smile shop" where a salesclerk will take a 3D image of your mouth. Neither of these options compares to X-Rays. Without X-Rays, the rest of the iceberg is hidden. Without X-Rays, the diagnosis is incomplete.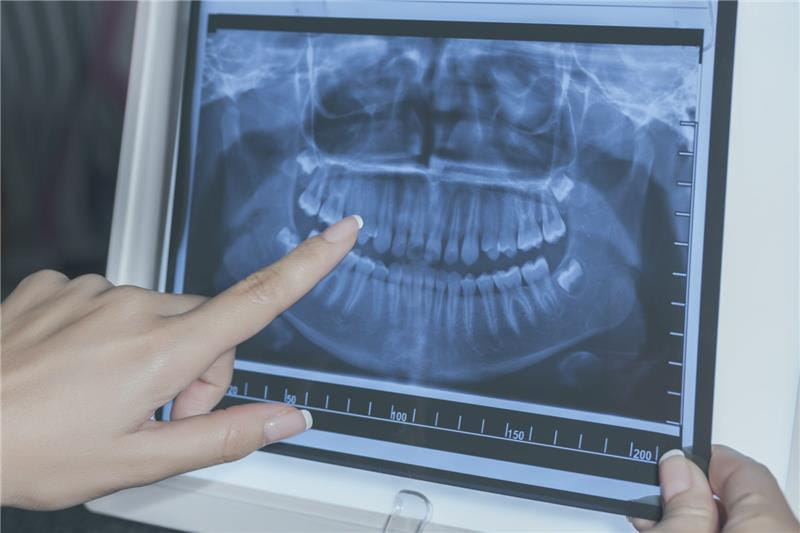 To get the full diagnosis and properly treat the teeth with Invisalign, you need X-Rays, from a real orthodontist, in an orthodontist's office.

Get the full picture of the iceberg. We can't say if Jack could have fit on the door with Rose (*cough* he could have *cough*), but we can definitely say that seeing the whole iceberg makes a difference. Especially when the iceberg is your smile, and you want your smile to last forever!
Smilify in Six Months with SmartTrack® Clear Aligners: The Proof is In the Plastic
When it comes to making great smiles, the tools matter. All clear aligner therapies use plastic trays to straighten teeth – but not all plastic trays are created equal.

Smilify treatment exclusively uses SmartTrack® material, a patented plastic designed by Invisalign. SmartTrack came out of some serious research – seriously.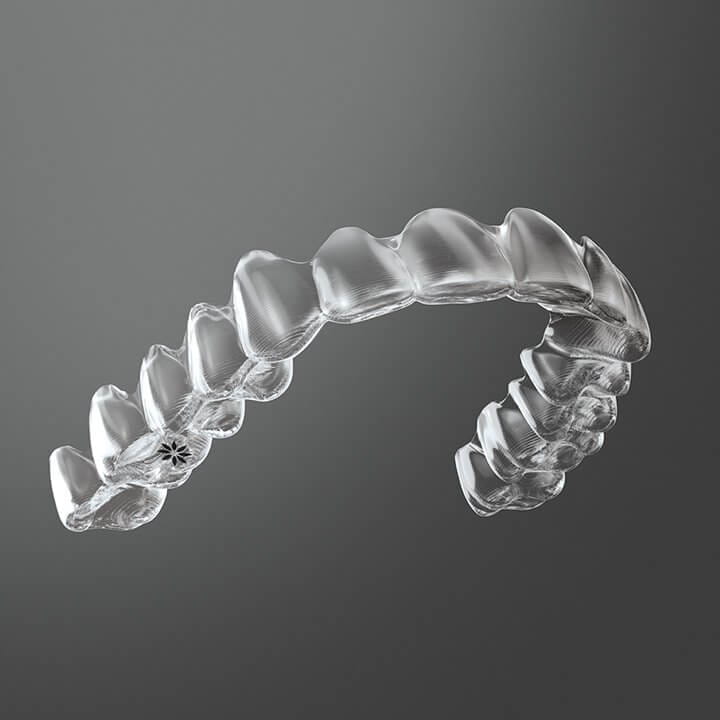 $500 million in research and development
260 different materials tested
8 years of dedicated biomechanical engineering
Patented and distributed exclusively by Invisalign
That research paid off: SmartTrack® clear aligners cut treatment length by up to 50%, and straighten teeth with as much as 75% more predictability. With the most control, and the greatest comfort, SmartTrack® is the "special sauce" of Smilify. It's how we straighten your teeth right, leaving you with a smile built to last.

Because SmartTrack technology is patented by Invisalign, it can only be used by Invisalign partners. When a tele-dentist sends you aligners in the mail, they rely on generic plastic trays.

It's a difference you can see.

For straight teeth in 6 months that really last, Smilify SmartTrack® clear aligners have what it takes.
Above and Beyond: Upgrade your Treatment Any Time
Tele-dentists offer you a package deal – but if your treatment takes longer, you'll be saddled with the extra cost per aligner. The price can go up fast – especially because your diagnosis may have been improper from the start – leaving you stuck with a much larger bill.

Smilify offers you easy, seamless upgrades to a more comprehensive treatment – any time in the five years after you start your treatment. You can upgrade to full Invisalign or braces, depending on your preferences. And your past payment will be credited towards your upgraded treatment, saving you money!

Smilify also offers a 30-day full money back guarantee for any reason.

Plus, a Lifetime Smile Maintenance Guarantee for all our completed patients. Because you should feel confident that your smile will last a lifetime.

Straight teeth for life, at a price you can afford – that's Smilify.
Cost Breakdown: Do You Really Get What You Pay For?
The reason people choose tele-dentistry is simple: it's cheap.
| 6-Month Mail-Order Aligners | 6-Month Smilify |
| --- | --- |
| $2,000 | $2,400 |
But what are you really getting for what you pay? Consider what you get for the cost:
| | Mail-Order Aligners | Smilify |
| --- | --- | --- |
| Full Diagnosis by Licensed Doctor | No | Yes |
| X-Rays Taken in Office | No | Yes |
| Face-to-Face Supervision by Licensed Doctor | No | Yes |
| SmartTrack® Plastic | No | Yes |
| Upgrade to Full Invisalign with Attachments | No | Yes |
| Insurance Accepted | No | Yes |
| Post-Treatment Follow-Up | No | Yes |
| Cost | $2,000 | $2,400 |
The costs might be comparable. But the treatment is a different story.
Insurance Companies Agree: Doctors Treat You Better
Dental insurance with orthodontic coverage helps you save money while you straighten your teeth. But insurance companies know – the best way to fix your teeth with Invisalign is in a real orthodontist's office.


That's why you'll get more of your treatment covered when you get Smilify, and you'll get it covered up front, saving you money.

If they cover mail-order clear aligners at all, insurance companies will usually provide coverage in the form of reimbursement: you pay first, they consider your claim, and then they reimburse you a portion of the money. You have to pay full price.

But many insurance companies, skeptical of tele-dentistry, don't cover this treatment at all.

Orthodontists go to school for years to learn how to straighten your teeth properly. Insurance companies agree that they best way to fix your smile safely is to come to a licensed practice; that's why they cover more of your treatment in-office, and pay for it up front.
With Smilify, your direct insurance coverage can save you an average of $1500. With mail-order aligners, your reimbursement will save you an average of $0.
Time is money, and money is time, but a great smile is forever. The choice is yours.
But Isn't It Just Easier to Straighten Your Teeth at Home?
Great point! It's convenient to stay at home. It's convenient not to go the doctor.

In fact, for the convenience of not coming into a doctor's office, you get to avoid all of this:
Personal care from in-office orthodontist
In-Office X-Rays
Diagnostic reports
Upgrade option to full Invisalign
Comprehensive treatment plan
Supervision by a licensed orthodontist
7-days-a-week human customer-service agents
Insurance coverage
Flexible payment plans
Retainers
Follow-up visits
Lifetime Smile Maintenance Guarantee
How's that for convenient?
Give Your Smile the Care it Deserves: 6-Month Results from Real Doctors with Smilify
You only get one smile. Set yourself up with effective, careful Invisalign treatment that really works. With results in 6 months, for a price you can afford, Smilify offers all the benefits of tele-dentistry, with one big advantage: the licensed orthodontist on your team, safely guiding you towards your healthiest, brightest smile and the confidence that comes with it.

Smile wide, smile for good, with safe, effective, and affordable Invisalign by Smilify. Straight teeth in 6 months, with a healthy happy smile that lasts a lifetime.
our results speak for themselves
Gillian S.
Treatment - 6 months
Spacing
Jayden L.
Treatment - 6 months
Spacing
Maria K.
Treatment - 6 months
Spacing
Devon S.
Treatment - 6 months
Spacing